Exercise, Discover, Have fun with our educators !
APSCA has a team with a dozen of dynamics, graduate and versatile educators in order to meet your expectations. You want a sport activity, for extracurricular time, your workshop, your school program , your leisure reception (etc...) ? Here is a wide range of activities that we can provide you with the appropriate material !
COLLECTIVE SPORTS
Football, Futsal, Basketball, Handball, Baseball, Rugby, Volleyball, Hockey
COMBAT SPORTS
Judo, opposition games, educative boxing, self defence
RACKET SPORT
Badminton, Tennis, Mini Tennis, Table Tennis
GYMNASTIC SPORTS
Sportive gymnastic, Baby gym, gymnastic awakening
LEISURE SPORTS ​Rollers, Mini golf, Petanque, Street hockey​
MAINTENANCE SPORTS
Taïso, Workout, Stretching, Aérobic, Maintenance Gym, Step, Swiss Ball, Nordic walking, Circuit training, Pound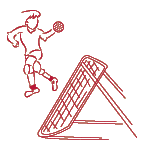 NEW SPORTS
Speed ball Passoball, Intercrosse, Frisbee, Catchball,Cesta, Rocheball, Indiaka, Vortex, Kinball, Tchoukball, Flag football, Blowpipe, Tilting darts, Boccia, Torball, Laser Rifle, Speedminton
FULL NATURE
Hiking, Archery, Kayak, Orienteering, Mountain Bike, Climb
DISABILITY Sport
Boccia, Blowpipe, Tilting darts, Torball
Découvrez dans cette vidéo en quoi consiste l'activité Tchoukball !